Directions to Cambria
Take California's Scenic Highway 1 to the Central Coast's Best Kept Secret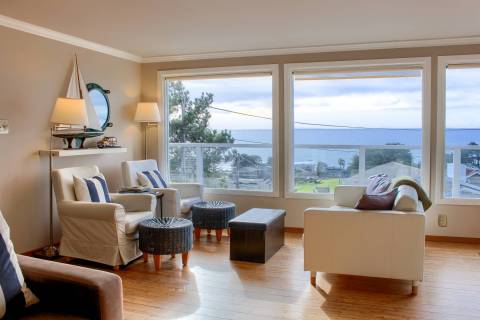 So, you booked your dream rental for a vacation in Cambria. One with fantastic ocean views and a hot tub, or maybe it was pet friendly with plenty of room for the kids to run around. Now that you know where you'll stay on the Central California Coast, it's also time to book your flight and car rental if you're planning to fly to one of the nearby airports. 
Once you've booked your beach house, flights, and car rental, you're ready to start planning the rest of your trip. Use our Cambria Travel Guide to find popular attractions, dining favorites, and fun local events. 
Flying To Cambria
Cambria is a small beach town along California's Scenic Highway 1. Due to limited rideshare and taxi services, it's important you rent a car for your trip to be able to explore the area if you fly in. The nearest airport is San Luis Obispo County Apt (SBP) which is about 50 minutes away and is served by 3 major airlines, Alaska, American Airlines, and United. Direct flights to SBP for Alaska come from Seattle, San Diego, and Portland. American Airlines has direct flights from Phoenix and Dallas/Fort Worth. United offers flights from Denver, San Francisco, and Los Angeles. That said, there are many ways and options to get to Cambria, California, and multiple regional and nearby airports to fly into.
The closest airport to Cambria via drive time:
From San Luis Obispo County Apt (SBP) >> 50 min
From Fresno (FAT) >> 1 hr.
From San Jose (SJC) >> 3 hrs.
From San Francisco (SFO) >> 3 hrs. 40 min
From Oakland (OAK) >> 3 hrs. 45 min
From Los Angeles (LAX) >> 4 hrs.
Driving Directions to Cambria
Regardless of if you fly into SBP or plan to drive to Cambria from SoCal, The Central Valley, or The Bay Area, there's an opportunity to take a beautiful and relaxing cruise to your destination. Cambria is located halfway between San Francisco and Los Angeles so you can choose to take it slow along the Scenic Highway 1 that traces the shore along much of the route. This does add a few hours onto your drive, but hey, life is about the journey, isn't it? If you're looking to get to your vacation rental and relax after a day of traveling, there are also multiple routes that are more direct from the North, East, and South.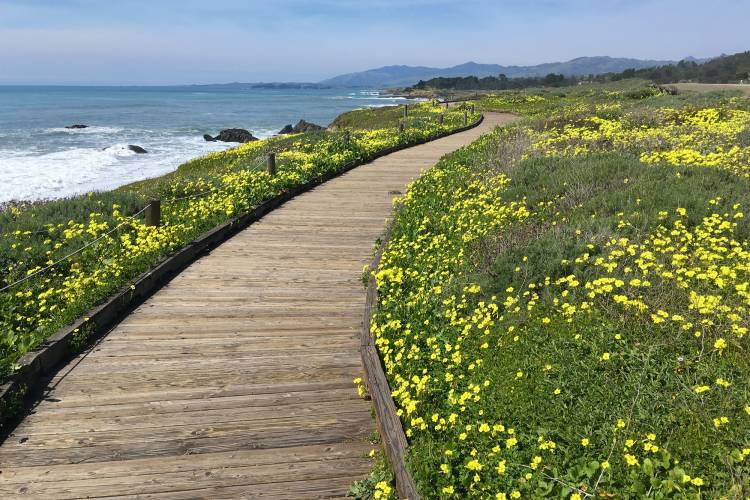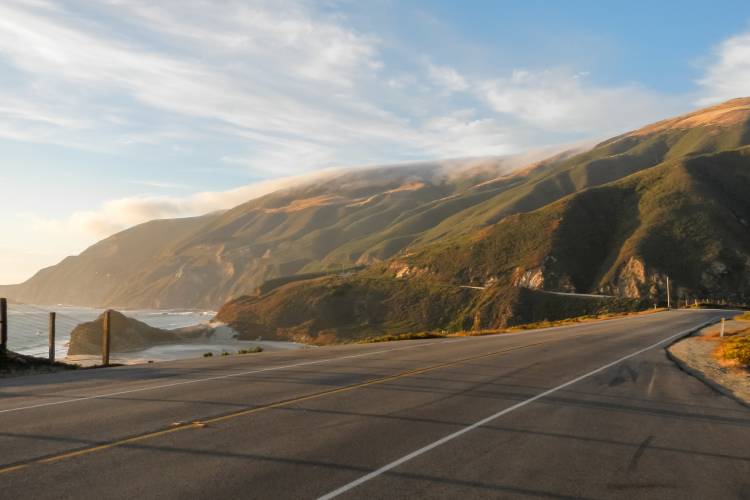 Main Routes to Cambria
From SBP (San Luis Obispo)
Get on CA-1 and follow for 32 miles.
From the South (Los Angeles/San Diego)
Follow US-101 N and continue to Santa Barbara. Take Exit 101B
Get on US 101 N from CA-154 for 33 miles
Follow US-101 N to CA-1 N/Toro St.
Take exit 203B from US-101 N
Follow CA-1 to your destination in Cambria
From the East (Fresno)
Get on CA-41 S. Follow to CA-46 W
Take exit 228
Follow CA-46 W to CA-1 N
Follow CA-I N to your destination in Cambria
Fastest from the North (San Fransisco/San Jose)
Follow I-880 S and US-191 S to CA-46. Take exit 228
Continue on CA-46 W to your destination in Cambria
More Scenic from the North
Follow I-880 S and CA-1 to Monterey. Take exit 401A.
Get on US-101 S 
Follow US-101 S to Jolon Rd. Take exit 283
Follow Jolon Rd, Nacimiento-Fergusson Rd and CA-1 S to your destination in Cambria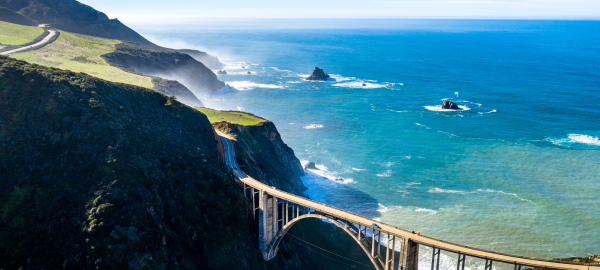 Start Planning Your Cambria Trip
Where is Cambria, CA located?
Cambria is a Pacific seaside village located along the California Central Coast. To access Cambria, visitors drive the stunning Highway 1 along the California Coast.
How far is Cambria, CA from LA?
Cambria is approximately 235 miles driving distance from Los Angeles, California. Typically the drive takes about 4 hours door to door.