Top Rainy Day Activities in Cambria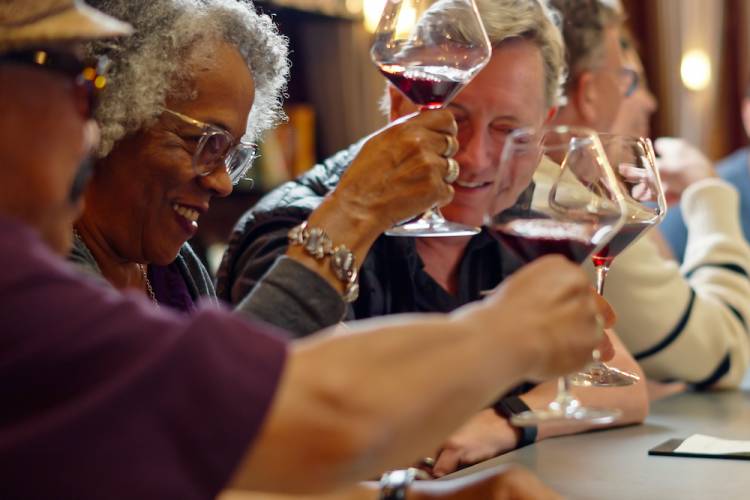 While Cambria, California is known for its sunny skies and breathtaking coastal vistas, the occasional rainy day can provide a chance to explore a different side of this charming town. Whether you're a couple seeking romantic experiences or a family in search of indoor adventures, Cambria offers a variety of captivating activities that will turn a rainy day into an unforgettable memory.
Start planning your Cambria vacation today with this helpful guide on the top rainy-day activities in Cambria.
1. Savor the Flavors of the Region
A rainy day provides the perfect excuse to indulge in the exquisite wines that the Central Coast is renowned for. Head to one of the many wineries in the Cambria area and embark on a wine-tasting journey that will tantalize your taste buds and warm your spirits.
Moonstone Cellars is a popular choice, offering a cozy and inviting tasting room where you can sample a selection of their handcrafted wines. Their knowledgeable staff will guide you through each pour, sharing insights into the winemaking process and the unique characteristics of each varietal.
Black Hand Cellars is another gem that beckons wine enthusiasts. The rustic ambiance of their tasting room, adorned with local art, creates an intimate setting perfect for sipping on their exceptional wines. Let the rain pitter-patter on the windows as you savor reds, whites, and blends that showcase the terroir of the region.
2. Explore Gourmet Dining
Rainy days provide an opportunity to indulge in the culinary treasures that Cambria has to offer. Delight in a leisurely lunch or a sumptuous dinner at one of the town's exquisite restaurants, where the ambiance is as enchanting as the flavors.
Robin's Restaurant is a beloved establishment known for its globally inspired cuisine and charming garden setting. Imagine enjoying a meal nestled indoors, surrounded by the beauty of nature as the rain paints a serene backdrop outside. From their renowned lamb curry to vegetarian delights, the menu promises a feast for the senses.
Madeline's Restaurant & Wine Shop is another culinary haven that invites you to savor the pleasures of gourmet dining. Their diverse menu, featuring local ingredients, complements an extensive wine list that allows you to pair your meal with the perfect glass of wine.
3. Immerse Yourself in Local History
Rainy days are an invitation to dive into the rich history of Cambria. Take the opportunity to visit the Cambria Historical Museum, located in the heart of town. Housed in the historic Guthrie-Bianchini House, this museum offers an insightful journey through the town's past.
Explore artifacts, photographs, and exhibits that bring to life the stories of Cambria's pioneers and the evolution of the town over the years. Gain a deeper appreciation for the region's heritage as you wander through rooms that tell tales of Native American culture, the heyday of the lumber industry, and the growth of the community.
4. Spend the Day Hopping from Shop to Shop
Cambria has a very quaint and shopping-friendly downtown. Going from shop to shop in the East and West Village, you'll find many hidden gems to take home with you. Whether you're looking for souvenirs, the latest in boutique fashion, or artwork that catches your eye, there are so many stores to choose from. From home goods to clothing and everything in between, just walk around the pedestrian-friendly downtown area and see what you can find! Plus when you need some fuel, there are cute cafés and restaurants around downtown to choose from to keep you going all day long. 
5. Relax in Your Cambria Vacation Rental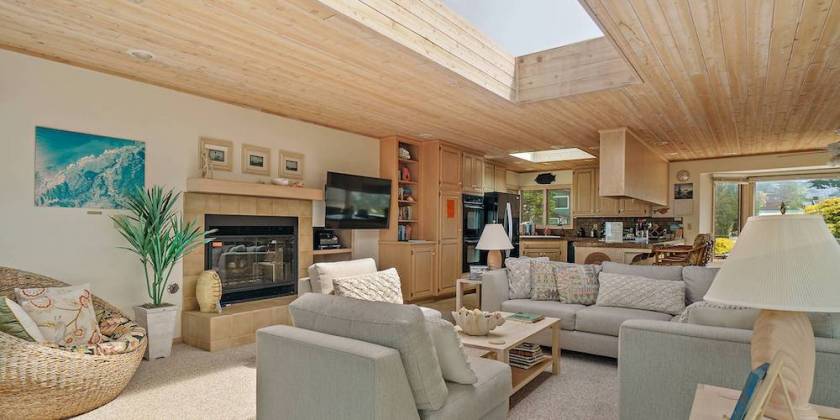 There is nothing more special than having nothing to do on your vacation. Watch the rain roll through from the comfort of your vacation rental and just relax and restore. Connect with your loved ones with a movie or game night and share a homecooked meal together in your fully-equipped kitchen. Cambria Vacation Rentals has the perfect home with you whether you're traveling with family or just having an intimate couples getaway. 
Our homes are located throughout Cambria and we even have some oceanfront so you can have the best view in the area. Browse through our available homes and start planning your Cambria vacation today, rain or shine!